Memphremagog Conservation is organizing a viewing of the film Dark Waters at Cinéma Magog

Dark Waters (2019)
Produced by Todd Haynes

Cinéma Magog, 12 Rue Principale E, Magog, QC J1X 1Y3

Saturday, January 18, 2020 at 3 PM

Cost: 8,50$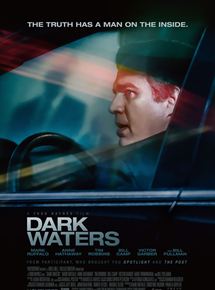 In 2016, Robert Bilott, lawyer and environmental activist, exposed the water pollution in Virginia caused by the chemical products company Dupont. The contaminants responsible for this pollution, called PFAS, slowly poisoned the inhabitants and animals in that state.

MCI wishes to educate the population regarding these chemical products that have the potential to contaminate Lake Memphremagog.

The film will be shown in English without French subtitles, and a question and answer period in both languages will follow.
Organized by Memphremagog Conservation Inc. (MCI), in collaboration with the Vermont group DUMP (Don't Undermine Memphremagog's Purity) and the Pradella family, owners of Cinéma de Magog.